Lorna Owen
To Whom the Night Belongs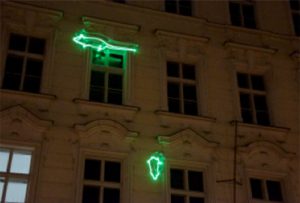 Over the past several years, Stephan Reusse's green laser-lit mice have been found crawling all over the place—from Shanghai to Seoul, Paris to Prague, from museums to even a bar—in uncertain and uneasy fashion. In every single situation the mice stop and start; they scurry backwards and forwards. They pause to groom themselves, and then chase each other, only to disappear behind an invisible curtain. Their electronic peregrinations are utterly convincing. If of course you've ever seen a pair of mice in a hurry. The movements are, in fact, based on those of real mice. The contemporary German artist analyzed infrared video recordings that had been taken of small rodents, and he reduced their patterns and forms to a number of animated lines.
That being said, his laser installations are more than clever, more than a child's form of entertainment. This is contemporary art after all. And what the work addresses is the act of perceiving and remembering. Reusse explains, "It's like this: the brain assembles images on its own, you see a few lines and they're gone again in a second, but in the background a picture of a mouse remains."[1]
Perhaps the most dramatic display of Reusse's Mice to date has been the one in Prague at night. In 2009 the Czech group w.art had brought together the work of six European and American artists, who used light as their medium, and projected the artists' illuminations on façades around the Czech capital. The exhibition, called "Transparency," was reportedly about the accessibility of 'ambitious' modern art. But reading about it now, I must admit I'm thinking less about the intent and more about how perfectly placed Reusse's Mice had been—an unwitting (or not) nod to Prague's favorite son: Franz Kafka. He, the author of "Josephine the Singer, or the Mouse Folk" (earlier post), and of "A Little Fable" about a mouse who regrettably asked a cat for advice. And of the letters about the troubles he had with mice during his stay at his sister's in the Czech countryside. Letter after letter. To Felix Weltsch he wrote, The first fatal flaw of Zürau: a night of mice, a fearful experience… And to Max Brod, Since the plague of mice… I am in no mood to sit there and hear rustling, sometimes behind the basket, sometimes at the window (one hears every claw)… And to Oskar Baum, As cannot have been concealed from you, there has been a frightful invasion of mice. Again to Weltsch, Up the coal box, down the coal box, crossing the room diagonally, running in circles…whistling softly when not moving, and all the while the sensation of silence, of the clandestine labor of an oppressed proletarian race to whom the night belongs. And once more to Brod, I'm now trying to harden myself, observing field mice on my walks, they're not so bad, but my room isn't a field and sleeping isn't walking.[2]
For Stephan Reusse the mouse may be a metaphor for human behavior—our restlessness with 'everyday life.' But for Kafka, you might say, 'everyday life' was—at least for a couple of months—a metaphor for mice. And it's possible that's what the Czech art organization and the city of Prague were thinking when they chose the location for Reusse's work: across the street from the building on which the mice scampered, there's a bronze memorial to Mr. Kafka.
[1] Christian Falvey, "Light in the Spotlight—Transparency 2009," Radio Prague, broadcast February 27, 2009.
[2] Franz Kafka, letters dated, November – December, 1917, Letters to Friends, Family, & Editors, translated by Richard and Clara Winston, 1977.
Other sources: To view the video of Mice, visit Stephan Reusse's website, and click on either German or English, or YouTube; w.art projects; City of Prague's website; Franz Kafka, Introduction and Afterword by Roberto Calasso, The Zürau Aphorisms, 2006.
(Image: video still of Mice by Stephan Reusse, Prague 2009.)